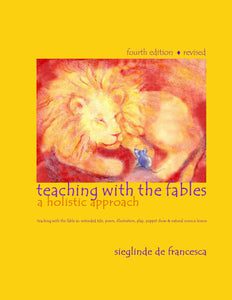 Teaching with the Fables, a holistic approach
Teaching with the Fables brings you everything you need to share the beauty and joy of the fables with your 2nd graders.  It is now in its 4 edition.
Here you will find 3 extended fables with poems, illustrations, and suggestions for additional lesson work. Learn how to:
extend a fable into a full, engaging story
illustrate a fable with crayons and watercolors
write a poem about the fable or its characters
create a play or puppet show about the fable
sculpt the fable characters with wax or clay
create a natural science lesson around a fable
Nancy Parsons, the former owner of Waldorf Books, says:
"Teaching with the Fables is so much bigger on the inside than it looks to be on the outside. It is the finest book I have ever seen on the topic of Waldorf teaching, and hands-down the best, fullest, and most beautiful exposition of the fables and what they can become to a child of about 8 years old (2nd grade)."
This is the Newly Revised, 4 th Edition. Spiral bound, 63 pages. Full color and black and white illustrations