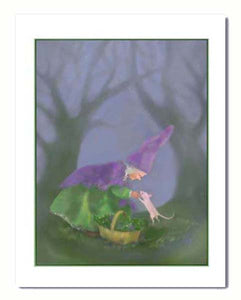 "The Gnomes' Rosette" Greeting card
This card pictures Mother Comfrey and a little friend. It is the illustration from the cover of The Gnomes' Rosette and is painted by the author.
On the back of the card is an excerpt from the book.
"Only a few were there to see the very touching scene of their dear, round Mother Comfrey lean over the very tiny mouse, say something to her, and then gently kiss her on the nose." 
The inside is left blank for your own message.
This card can be used as: a greeting card, seasonal card, invitation, get well card, gift enclosure, birthday card and much more. Perhaps you can think of other uses for it.
This card comes with a white envelope. Card measures 4.25" x 5.5".