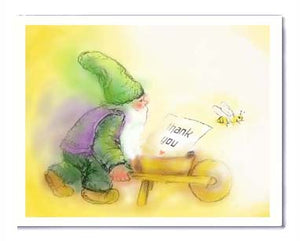 "Thank You" Greeting card
It seems that 'thank you' cards are a thing of the past. But, isn't it a wonderful habit to revive? Especially after Christmas, why not encourage your children to write their thanks for the gifts they received? 
This card of Mossy Gnome is an altered version of an illustration from A Donsy of Gnomes which the author has brought to life with color.
On the back of the card is an excerpt from the book.
    "What a picture they made; the honey bee leading the way as the little gnome pushed the wheelbarrow, bumpity, bump through the woods."
The inside is left blank for your own message.
This card comes with a white envelope. Card measures 4.25" x 5.5".