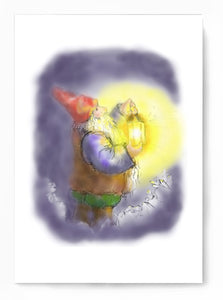 "Pebble" Greeting card
This card of Pebble the Gnome is of an illustration from A Donsy of Gnomes which the author has brought to life with color.
On the back of the card is an excerpt from the book.
"Pebble is a busy gnome with a very important job. He polishes crystals that grow deep in the earth. He uses a very soft cloth to make them sparkle and shine."
The inside is left blank for your own message.
This card can be used as: a greeting card, Holiday card, invitation, get well card, gift enclosure, birthday card and much more. Perhaps you can think of other uses for it.
Card comes with a white envelope. Card measures 4.25" x 5.5".