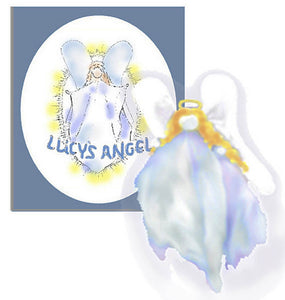 Lucy's Angel - book & angel puppet downloadable kit, KitNtale
The charming illustrated storybook tells how Lucy sees three magical, illusive angels. Then she gets the answer to a special wish, her very own angel.  The book's cover and illustrations are ready for you to add color to.
Lucy's Angel is a delicate silken angel who flies about on a thread. A little halo crowns her long fluffy hair.
She is sure to bring sweet dreams floating over a little one's bed. She can add magic to your Christmas by gracing the family tree, or encircled by an evergreen wreath. What a lovely gift she could be, easily sent inside a card, to a new mother.
Only the most basic stitches are required to make this angel. This is a good project for nimble little fingers. You will probably already have the materials that you will need to make her in your sewing basket.
There are 8 pages to this download.