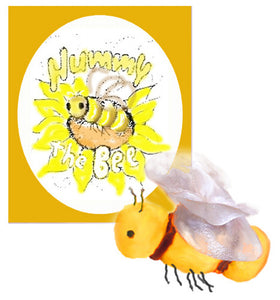 Hummy the Bee - book & puppet downloadable kit, KitNtale
Hummy is a small honey bee who flies on sparkling wings. Included are the patterns and instructions needed to make this delightful toy.
The accompanying illustrated storybook tells how Kris, who just moved to the country, is led by Hummy to some wonderful, unexpected treasures, the best of which are some new friends. The book's cover and illustrations are ready for you to add color to.
Hummy can hang from her string on a bouquet, or fly around the garden to visit all of the flowers. Make a whole "Bumble of Bees" for a fun party activity!
Hummy is so easy to make, she can be created by a young child. You will probably have most of the materials you will need to make Hummy already at home. 
There are 9 pages to this download.