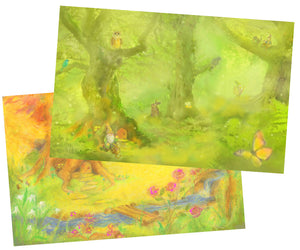 2 story postcards in two different designs
This offer is for 2 high-quality cards of two different designs. 
Wouldn't one look lovely on your Seasonal Nature Table?
One is an image of Leon & Lucy's Garden of Wonders, imagined in the KitNtale stories. The second is of Limindoor Woods, with at least 10 of the many loved characters from the series The Tales of Limindoor Woods.  Both images painted by Sieglinde de Francesca.
The postcards are large (8.5"x 5.5") and of high quality. The backs are mostly blank but for a small area of text with the name of card and artist at the bottom.