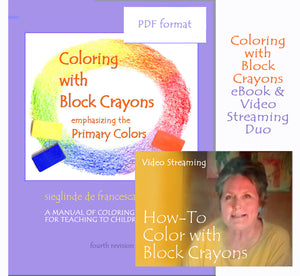 Coloring with Block Crayons eBook & Video Streaming combination
Now, for the first time, you can both read the eBook and stream the video of the Coloring with Block Crayons course together to expand your learning.
"At last, someone has written a beautiful, clear guide to teach yourself, and then your students, how to beautifully color with block crayons" – said Nancy Parsons of Waldorf Books
Read 72 pages of the book and stream about 2 hours of clear instructions on the use of primary color block crayons. It covers a variety of techniques that will enable you to create beautiful, illustrative drawings, including:
the elements
landscapes
plants
animals
humans
as well as fairy tale & fable illustrations
and much more
There is also a full gallery of many drawings to save and look through as a reference. 
 To access the Video Streaming, go to page 73 on the PDF.    Enjoy!