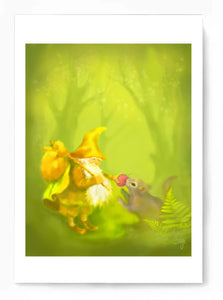 "Gnome & Friends" Greeting card
This image of Mr. Twigwhittle is from the cover of the book, Gnomes & Friends.
On the back of the card is an excerpt from the book.
        "This person was kind of stocky like a tree stump but with thin stick-like knobby arms and legs. A big smile that went from ear to ear was almost hidden by a long bushy grey beard. Covering his back was something like a large leaf (that actually was a cape.) His pert pointed cap had a wider brim than most gnomes' hats, but of course, Gri-Gri didn't know this, having never seen a gnome before."
The inside is left blank for your own message.
This card can be used as: a greeting card, Holiday card, invitation, get well card, gift enclosure, birthday card and much more. Perhaps you can think of other uses for it.
Card comes with a white envelope. Card measures 4.25" x 5.5".