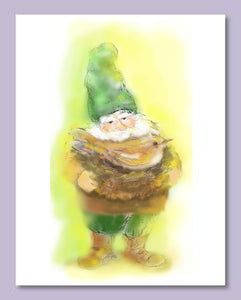 "Gilly" Greeting card
This card of Gilly Gnome is of an illustration from A Donsy of Gnomes which the author has brought to life with color.
On the back of the card is an excerpt from the book.
"At the edge of the clearing, at the roots of a great, gnarly old tree, a small door opened, and out stepped a wee little man. His pointed cap sat firmly on his head, his beard freshly brushed.  He put on his dusty boots and picked up his hoe. The morning sun had just reached the garden and Gilly was ready to work.
The inside is left blank for your own message.
This card can be used as: a greeting card, Holiday card, invitation, get well card, gift enclosure, birthday card and much more. Perhaps you can think of other uses for it.
This card comes with a white envelope. Card measures 4.25" x 5.5".