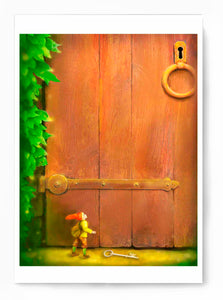 "A Gnome-in-Training" Greeting card
This image of a certain "Gnome-in-Training" is from the cover of the book of the same name.
On the back of the card is an excerpt from the book.
     "Whew! Adventures are sure hard work," Gus said to himself. At last he had arrived. He walked up and stood in front of the door and gazed straight up to the keyhole. Oh my, it was a long distance. However, was he going to get the key up that far?
The inside is left blank for your own message.
This card can be used as: a greeting card, Holiday card, invitation, get well card, gift enclosure, birthday card and much more. Perhaps you can think of other uses for it.
Card comes with a white envelope.