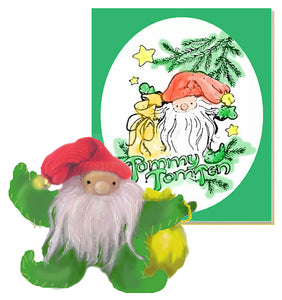 Tommy Tomten - storybook & instructions to make tumbling Tomten downloadable KitNtale
Assemble this sweetly illustrated book and read about Tommy Tomten's adventures during the Season of Giving. (This is the first version of the story that inspired Tommy's story in the book, A Donsy of Gnomes.)  The book's cover and illustrations are ready for you to add color to.
Then make Tommy, a delightful tumbling gnome, just the size to fit into a pocket. He has a metal ball inside him, causing him to tumble "head over heels" on an incline. Tommy has a big sack that he uses when he travels around in the woods, to collect gifts for his friends. You can put treasures of your own in it.
Only basic hand stitches and some taping and gluing are required to make this toy.
Although you will probably have most of the materials that you will need to make Tommy Tomten, already at home, finding the ball might require a bit of a search.
Now you can find the metal balls & cardboard sleeves you will need under 'Crafting Supplies' in Teachwonderment.com
There are 12 pages to this download.