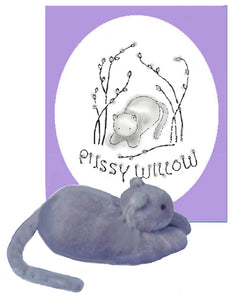 Pussy Willow - book & kitten toy instructions downloadable kit, KitNtale
Make up this sweet, illustrated storybook and read of Leon and Lucy's adventure with little Pussy Willow.  The book's cover and illustrations are ready for you to add color to.
Follow these instructions to make a delightful 6½" stuffed velour kitten, 3" of which are its soft tail. Pussy Willow enjoys playing hide-and-seek in pockets and loves to be a special friend at bedtime.
Although only basic hand stitches are required to make the kitten, you may have to give your child some assistance with its creation.
You will need a 5"x7" piece of soft gray velour for this kit. If you can't find any in your scrap basket, you can go to Kit'N' Tales Supplies and purchase a piece of velour large enough for 2 kittens.
If you don't have any grey velour, why not purchase the special Pussy Willow kit that comes with ample fabric for your project?