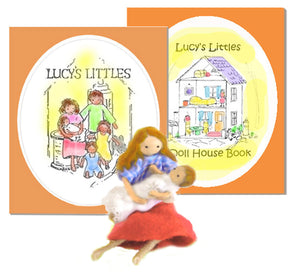 Lucy's Littles - book, doll instructions & dollhouse idea book, downloadable kit, KitNtale
Lucy's Littles is a delightful family of 2"- 4" dolls. You can create any family configuration you desire. Instructions include directions for male and female adults/seniors, boy and girl children and an infant. You can dress your family in either contemporary or old-fashioned clothes. 
You will probably have all the materials that you need on hand to make the dolls. However, you will need 15mm and 12mm wood beads for the heads. These are slightly larger and smaller than 1/2" beads. 
Kit includes an engaging illustrated storybook about the Lucy's Little dolls and their special pet.  
The book's cover and illustrations are ready for you to add color to.
♥ And also included is a special Dollhouse Idea Book with full instructions on how to build and furnish a home for your Lucy's Littles, or other tiny dolls. It is full of ideas, tips, and how-tos for making the dollhouse using materials from around your home. No carpentry needed! As well as many ideas on how to furnish it. 
Guaranteed to delight the creative child!
 There are 22 pages to this download.